5 reasons you should make THIS stop before Charlotte International Convention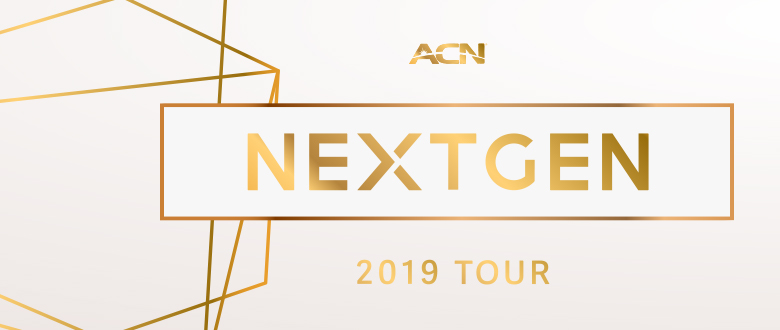 Considering taking the plunge and going to the Charlotte International Convention? You definitely should. Charlotte's different. This International Event happens close to World Headquarters. It's a celebration and an opportunity for an incredible training experience.
This year, it has a Super Bowl feel to it.
That comes from NextGen, that harbinger of incredible ideas that pave the way for ACN's future. You're engrossed in growing your business on the cutting edge of technology. You know exactly what we're talking about.
There's much training to be had to get the most out of all NextGen assets. It's like we've turned the key and pushed all the buttons on this monster, but we've not even left the launching pad! NextGen will continue to transform and streamline how you do business.
If Charlotte's so great, why should you bother with the NextGen Tour? That's like asking whether you should accept extra scoops of ice cream.
Here's why you should pick the closest tour stop (or one in a favorite nearby city) and register.
1-ALL NEXTGEN, ALL THE TIME
Don't get us wrong: We love the festivities of an International Event. But when you turn up for a NextGen Tour, that's what it's about. Real training. Real examples. A concentration on the details of the movement that moves you forward.
2-UP CLOSE AND PERSONAL
Think about it: You get ACN President Greg Provenzano, Co-Founder Tony Cupisz, and ACN VP of Sales Mike Kane. They each bring a unique perspective to the training. And it all happens in a more intimate venue than International Training.
3-TEAM TIME
The best people to take on road trips? ACN people. How many prospects or teammates fit in your car? Don't miss the opportunity to spend more time with those you'll work closest with. Get to know them and get to know their why.
4-NET GAINS WITH NETWORKING
You'll also be around other IBOs and prospects in your region at NextGen training. Introduce yourself. Make allies. Pique interest in the hotel, when you stop for gas, wherever you eat. Seize the moment and look for people around you who are looking for you and the ACN Opportunity.
5-MOMENTUM FOR CHARLOTTE
Education and momentum are such driving forces in our business. Take a full dose of both to Charlotte! The best is yet to come for NextGen, and for ACN in 2019.

Check out the latest list of tour stops on the ACN Facebook page.
---
Share this:
---
---