4 tangible ways ACN NextGen is boosting your business already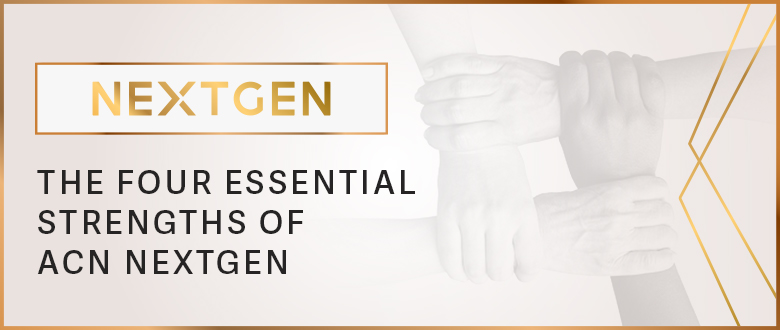 ACN NextGen has arrived on the scene as a series of prompts and promise. A sequence of rollouts and trainings on the ACN Compass App. Exciting specifics when it comes to business structure, compensation plans and inspiration.
What is the hands-on benefit for the Independent Business Owner? How can ACN NextGen begin to show up in concrete examples?
ACN President and Co-Founder Greg Provenzano knows. He outlined four tangibles recently during a call with top producers. We'd like to share them with you.
ACCELERATION
You've heard trainers implore, "trust in the system, believe in the ACN Opportunity, start grassroots, fill your living rooms, attend Saturday training, sort, talk, invite, repeat." NextGen keeps the integrity of that process - but puts it on a fast track to success.
How?
By giving IBOs the power to pique interest, schedule meetings and manage a team from the palm of their hand. How do you use the ACN Compass App?
LONG-TERM GROWTH
NextGen brings you closer to your next generation of leaders. It also brings those next generations of leaders closer to achieving their dreams. Wait until you see your downline start to pass you up on the promotion scale!
How?
New IBOs can get paid quicker than ever. To them, everything's laid out and easy to understand, through ACN web assets and the ACN Compass App.
SUSTAINABILITY
Access to piquing tools on ACN Compass gives prospects a clear picture. We crafted app enhancements to streamline the process for IBOs and prospects. ACN's unique business model can attract the type of go-getters who will stick with it for the long haul.
How?
Bringing IBOs and prospects to Saturday training and International Events engages them. Such proximity can help them feel closer to the road to success and truly edify the business.
ADVANCEMENT
With hard work, the path to accelerated advancement is before you. It works for prospects, too. As your business grows, you meet greater promotions. The more team members who reach milestones, the faster your business can skyrocket.
How?
Bonuses motivate. Goal-getters become goal-setters. Momentum springing forth on your team means momentum working for you.

You've made that decision to align yourself with an uncommon company and culture. We are dealers of hope. Don't miss out on the possibilities that are closer than ever with NextGen. It starts with setting goals - and goal No. 1 is registering for Charlotte!
---
Share this:
---
---